What brand of CAI is this?
---
This is the cold air intake system in my 2002 Z06. I have looked everywhere I know to try to identify the system with no success. I'm curious just because it may need to be serviced (re-oiled perhaps?) I did not get a maintenance history with the car, so I'm kinda starting from scratch.
Thanks for the input!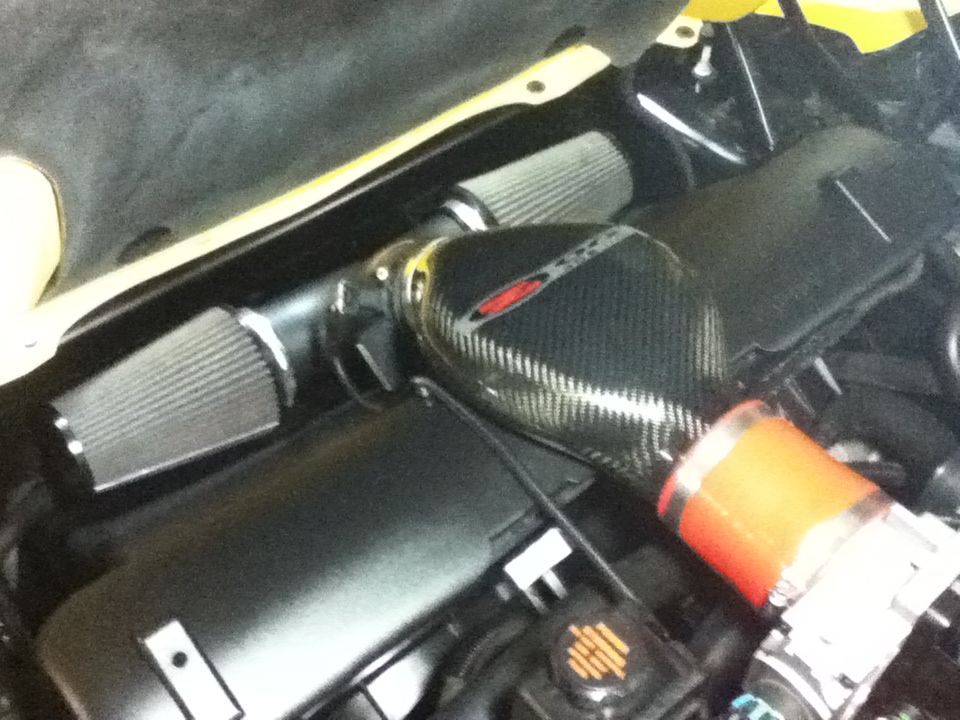 Z06 Master
Join Date: Dec 2001
Location: South AL/// Z06 Fest Participant I, II, III, IV, V, VI, VII, VIII, IX, X
Posts: 2,623
Re: What brand of CAI is this?
---
It looks like a Volant with a Haltech carbon fiber air bridge. It won't hurt to wash and re-oil it. Just don't over oil it.
---
'01 Z06
'01 ITR NASA TTD/ SCCA STX
'02 Yukon XL 4WD
'14 Mazda 6 MT
Re: What brand of CAI is this?
---
Does look a lot like my old Haltech Stinger air bridge, Dan.

Mike
---
2002 Procharged (F1-C) 427LSX 821rwhp/751rwtq
9.87 at 141mph
& 2007 Black C6 Z06
Vette Magazine article
1/4 mile pass
Re: What brand of CAI is this?
---
Thanks, guys. Did some more snooping around online, still nothing definitive. I'll just buy a re-oil kit and service them later.
Z06 Master
Join Date: Sep 2003
Location: Hillsborough, NJ 08
Posts: 4,846
Re: What brand of CAI is this?
---
Looks like it could be a K&N dual filter set up.
Re: What brand of CAI is this?
---
It is not a CAI as those filters suck in hotter engine bay air temps

Also the shape of filters cause air to spin and 2 opposing air flows can cause turbulence into the MAF sensor that is mounts to the air filters housing. That would confuse MAF's output to PCM

The cleaner and oil brand you buy has makeup for the filter brand it was designed for and another filter design may not be suited for the product you buy/use.

Maybe take it off and look for any labels that cannot be seen when mounted and that in fact the filters are washable and do not over oil as MAF being so close can be oil soaked causing it to incorrectly report the true airmass.

I'd use a MAF spray cleaner product to assure the exposed sensors are clean
---
Mike M - 2001 / 2008 Z06s
Re: What brand of CAI is this?
---
Thanks for the input racingvette, but now you've got me confused. Other posters to this thread did not question whether or not this is a CAI. Also, when I search for cold air intakes online, there are many that are similar to this configuration and are described as CAI's.
If the intake setup in my Z06 is not really a CAI, can you point me to one that really does qualify as a true CAI? I'm a newbie and need a little education. Thanks!

Re: What brand of CAI is this?
---
As you see the filters are located in the same way stock filter would be and flows in the hotter engine bay air.

To be a true cold air intake (CAI) if you built a box over those filters and then cut a slot in the radiator shroud then the intake would be pulling in only the colder outside air and the box prevents the hot air being pulled into those filters.

Engines need cold air not more air as the better the air is (denser, colder) the better the charge is to the cylinders since colder air has more molecules per volume then hot air does.

At lower speeds, stop/go and idle the engine bay heat soaks and not enough air is being moved from the outside so with a good CAI you reduce all that heat soaked air, the IAT sensor reports measuring colder air and hence more timing where hotter air induces leaner AFR, more engine knock with end results of the PCM yanking a ton of timing out or worse dropping into the low octane timing table and staying there

Research water/methanol injection kits as example of why colder air prevents performance loss yet increases it

Many vendors make the marketing claims as a CAI but in fact are afraid a bad designed CAI sucks water in and hydro-locks engines, ask old timers here about Halltech issues back then

C5 is a bottom breather so as mentioned build a box over the filters and slot the shroud which will be fine/safe or buy a system that already does that.

In any case as my last post, opposing filter flows close to the MAF can and will confuse the MAF as what it outputs to PCM as true airmass

Notice on the C6s how GM redesigned the MAF and installs it further sway from the filter
---
Mike M - 2001 / 2008 Z06s
Re: What brand of CAI is this?
---
As an example compare your filter photo above and this one to see a true CAI

Either make one or PM me for the where and hows.
---
Mike M - 2001 / 2008 Z06s
Z06 Authority
Join Date: May 2003
Location: Pasco, WA
Posts: 1,827
Re: What brand of CAI is this?
---
Not exactly true. On Z06s, there's the two front grilles that open to the filter area, so some cold air enters. If you want to excise outside air you have to use a Vararam system. Keep your pretty airbridge, and get some measureable gains. He's right about the "twin cone" style intakes being a POS. If you have a screen in the MAF, like a stock '01, then the turbulence is not a problem. I've seen those twin-cones for sale from $49.95-$199.99, and you do need to use the correct cleaning kit, or replace those elements. Get a cheap Blackwing if you want something simple.
---
'02 B/B LGM Lts, Corsa. TEA/Trickflow215s/Comp/A&A Blower cam, Powerbond pulley. Harland Sharp roller rockers. A&A S-trimV-3 Vortech.Cobbled fuel system. RPS Twin Carbon clutch/FW, with Tick MC. MGW shifter. I need an intervention. Too late, I blew up the trans/diff. Who knew 650HP would damage the stock drivetrain? :-?
''Go ahead, freak out the neighbors!"
Re: What brand of CAI is this?
---
Corvettes are designed to sit low, limit airflow below the car to prevent lift and the so called grills are for looks only

As the laws of physics dictate cold air does not raise and force hot air down nor does it allow air to instantly enter grill and make the air take a 90 degree turn UP.
Add engine bay pressure, added by fan flow and any air is moved down and back

Proof is the whole reason the C6 is not a bottom breather is GM needed better cooling for the C6Rs and look at the dual cooling air path to the intake.

Vararam is crap and bogus marketing, there is no pressure in front of nose as that is called C/D and their flow paths for C5s in fact reduce high RPM flow.

C/D is clear and why non sticking dust sits on front and hood even at higher speeds as the nose design forces air to sides, high and flow over roof and why windshield area is best pressure to extract heat from engine bay with rear vented hoods.

I have done years of testing on this and simple use of a OBD scanner, record, MPH, RPM, MAF output and IAT will show the Z06 air temps are no better then a pre 2001 C5 where the plastic by running lights are solid piece.

In any case that duel filter OP has is sucking in the hotter engine bay temps and at idle IAT is 20-40 degrees hotter then outside air is

The screen on MAF will help as to turbulence but not in this case with opposing airflow paths and MAF mounted right off that housing.

Reason GM for C6 Z06, ZR1, went with somewhat like a Blackwing as it has lots of flat surface to keep air straight and all C6s after 2006 the MAF is different design and mounted close to the throttle body
---
Mike M - 2001 / 2008 Z06s
Currently Active Users Viewing This Thread: 1

(0 members and 1 guests)
Posting Rules

You may not post new threads

You may not post replies

You may not post attachments

You may not edit your posts

---

HTML code is Off

---