Anyone care to join me at Etown Tomorrow?? UPDATED!!
I'm going down after work tomorrow (Wednesday). I should get there around 6:00-6:30 the latest. Just hoping to get a few passes in on the new Et Streets...Here's a pic of them bolted on..
Ron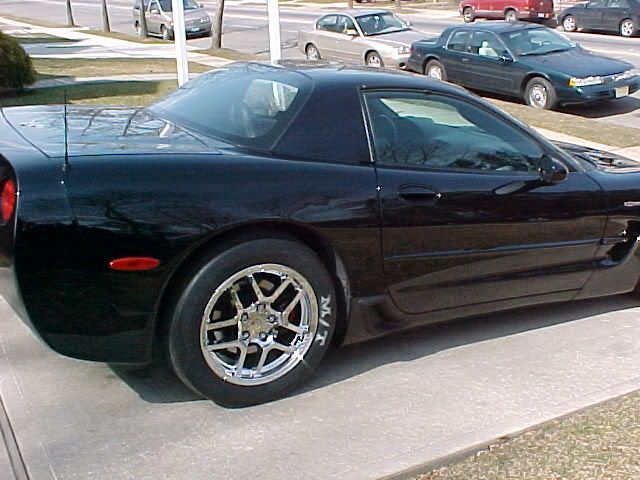 UPDATE!!!!
Well, obviously I'm back. So how did I do??? Well, I didn't break! I did OK I guess.... 5 passes & they told me i was done..last pass at 8:47...
1st pass on the ET streets-a get familiar pass & shake off the drag racing rust pass. Launch @ 5500rpm & slip the clutch. I run a
[email protected]
w/ a 1.75 60' @ 14.5psi. I feel the tires hooking so I decide to go up w/ the rpm's & down w/ the psi. Second pass I launch @6000rpm's w/ a bit less clutch slip. Again I feel the tires hooking & run an
[email protected]
w/ a 1.691 60' at 13.5 psi. Third run I up the rpm's & drop the psi to 12.5 this time. I launch at 6200rpm & all but dump the clutch. The tires hook at first but then I feel a little spin & I'm headed for the left side wall. I stay in it & correct. As I'm heading back for the groove I throw 2nd & now I'm heading towards the center stripe! I decide I've seen enough & get out of it. My 60' was 1.699. Not a good run due to the left rudder off the line.My 4th run I do the same & get a 1.694 60' but miss 3rd & get out of it. My final run I go to 13psi & launch @6000rpm's & barely slip the clutch. I feel the tires hooking & run a
[email protected]
I tapped the rev limiter on the 2-3 & 3-4 as I was trying to eek out every last tenth on that run, but I paid the consequences...
Overall, I got more consistent 60' times, but I'm disappointed w/ my time(s)....Also, my mph was down on each run-not sure why either. We'll see I guess.....
I met 3 forum members there. 2 guys w/ a silver 97 & a silver 2000 coupe. Sorry guys I forgot your names. I also met Jim (I think) who had a nice yellow ZO6. He said he was around 500rwhp, but he had no traction on his PS2's......
Anyway, that was my Wed. night....on a 1-10 I'd say a 5..
Flame suit is now zippered up to my eyes!!!
Ron